Enter a contest to win a beautifully hand-crafted, new quarter size decorative Common Loon carving generously donated to Watersheds Canada by Canadian artist, Mike Reader: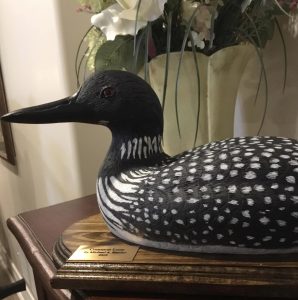 Common loons are an indicator of water quality in a lake. Except for migration and nesting, Common Loon spend their entire lives in the water. As a top predator on the lake, they almost exclusively prey on fish, with adults eating about 2 pounds of fish every day! Breeding pairs of Common Loon are a real treat to see on any Canadian lake, and you can bring this treat home by entering our new contest!
Full contest details and entry form can be found here.