Newly added native plants on the shores of the Morrisburg Waterfront Park will make the area more welcoming for local residents and the wildlife who utilize this 'ribbon of life'.
Shoreline ecosystems, or riparian zones, are especially valuable habitat for terrestrial and aquatic wildlife. The shoreline area includes the first 30-metres of land around a freshwater body. It is considered the 'ribbon of life' because it supports 70% of land-based wildlife and 90% of aquatic species at some point in their lifetime as they use it for food, water, shelter, and breeding.
The ribbon of life along the Morrisburg Waterfront Park was in need of some extra help. Local resident Michael Burton heard about Watersheds Canada's Natural Edge Program through a friend who had participated in the program on their own property. The Natural Edge is a shoreline renaturalization program that helps individuals and community groups restore their shorelines by planting native species of trees, shrubs, and wildflowers.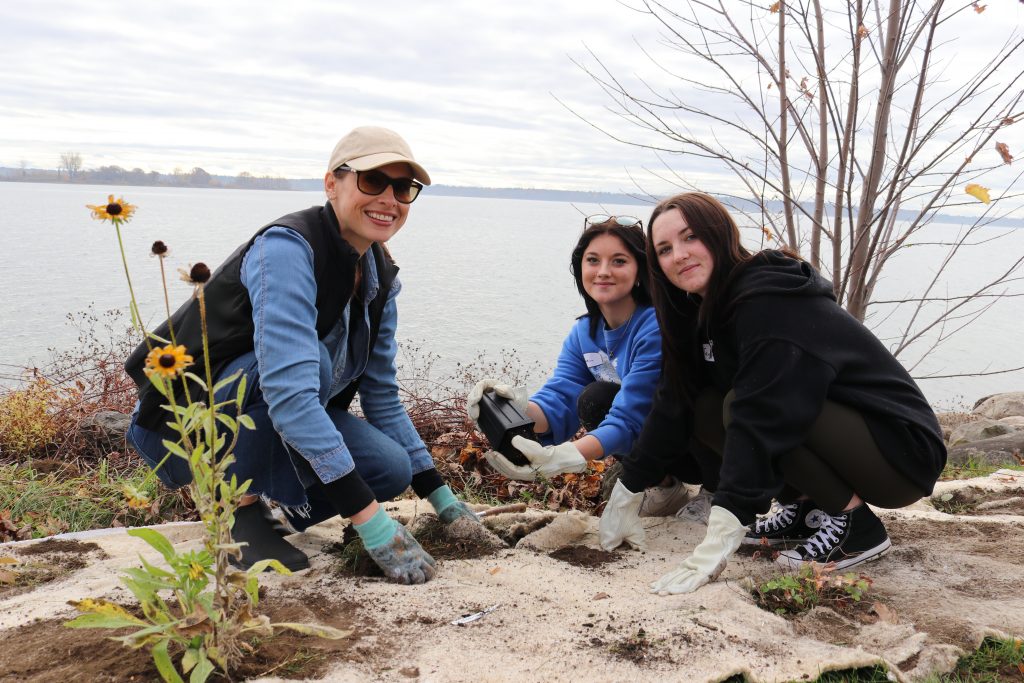 "It is important for the river to stay natural and healthy for people to use", said Michael. "This park is the heart of the community and we want to make it a place where there are things to do and it connects people with the history of the area and to nature."
At the centre of the park, within the pavement, is a compass design which signals back to the history of town and allows people to stop and remember this rich history. New lighting has also been installed along the shoreline.
Involving the next generation of environmental stewards has been a focused priority during the park's ecological restoration. This has included tree plantings by local Guides, Pixies, and Sparks groups, and most recently a planting by the Agricultural Specialist High Skills Major (SHSM) class at Seaway District High School on October 25, 2022. This investment from children and youth as they plant native species will be something they treasure throughout their lives every time they visit the park with their family and friends.
"Today we were able to bring sixteen students out to learn about soil erosion and water quality", said Heather Thompson, Teacher, Agricultural SHSM Lead for Seaway District High School. "This was an opportunity for real-world learning and we are happy to help. This opportunity was a great way for Morrisburg-local students to learn from and connect with other volunteers to plant 200 native plant species".
Jason Broad, the new Mayor Elect for the Municipality of South Dundas, was also on-site to help get plants in the ground. "I was in the council meeting as a visitor when this project was first approved and am glad to be a part of this project on my first day as Mayor Elect. These plants will enhance the visual sightlines for residents and tourists visiting the park, and will improve what we already have."
This project was generously funded by TD Friends of the Environment Foundation, and was a success thanks to Seaway District High School, local Morrisburg residents and volunteers, and Watersheds Canada.
Eligible waterfront property landowners in the St. Lawrence River watershed who want to restore their shoreline can participate in the Natural Edge Program in 2023. Each participating landowner will receive a free site visit which provides advice and recommendations to improve shoreline health. If planting is recommended, a Shoreline Re-Naturalization Starter Kit can be purchased which includes the creation of a shoreline restoration plan for the property, native plants and materials, as well as education guides on how to maintain shoreline health. Each customized restoration plan will provide detailed descriptions of native trees, shrubs, and wildflowers suitable for planting based on site conditions and landowner preferences. To learn more about what is included in a kit and its cost, please visit naturaledge.watersheds.ca/
About Watersheds Canada
Watersheds Canada is a federally incorporated non-profit organization and registered Canadian charity committed to providing programs to communities across the country that work to engage and help shoreline owners enhance and protect the health of lakes and rivers. Learn more: watersheds.ca/