Sturgis Regional Park
Sturgis Regional Park, Assiniboine River
Planting plan created by Assiniboine Watershed Stewardship Association
Survey Date: 07/19/2018 • Planting Date: 09/14/2018
Schedule A:
Plants & Property
Land Characteristics
This planting plan is designed based on the land characteristics identified during the day of the site visit. Plants are chosen according to the soil and light conditions on your property. The number of plants chosen for each planting compartment takes into account the square metre area of the space, as well as the amount of current vegetation cover. Your property is part of ecoZone: 1a
Land Characteristics by Compartment
| | Length | Width | Area | pH | Soil | Moisture | Light | Height |
| --- | --- | --- | --- | --- | --- | --- | --- | --- |
| A | 37m | 4m | 148m2 | acidic, normal | sandy, clay | normal, moist | full sun, partial sun | |
| B | 45m | 3m | 135m2 | normal | sandy, clay | normal, moist | full sun | |
| | 82m | 3.5m | 283m2 | | | | | |
Plant Selection Summary
The following shrubs and trees are chosen for their suitability and survivability given the current soil and light conditions in each compartment on your property, as well as preferable features.
Plant Species
A
B
Potted
Bareroot
Wildflower
Tamarack
7
9
16
Sandbar Willow
10
10
20
Bebb Willow
15
15
30
Chokecherry
25
15
40
Saskatoon Serviceberry
10
10
White Spruce
4
4
Eastern Cottonwood
10
10
Subtotal
57
73
30
100
0
Totals
130
Plant Information
The following table summarizes key information about each plant selected for your property.
Tamarack

Height: 20 m

Tamarack is a small to medium sized, deciduous coniferous tree species that grows up to 20 m tall. This plant may also be known by the common name American Larch. The bark is scaly and reddish brown coloured. The needles are delicate, 2-4 cm long, blueish-green coloured, grow in clusters of 15 to 25, and change golden yellow in the fall. This tree provides food and habitat for wildlife species, including birds and mammals. Tamarack is a fast-growing, long lived species that can live up to 150 years and is found across all of Canada. The wood from this tree is decay-resistant and has been used to make railway ties, posts, and crates. Tamarack is considered unique because it is the only conifer species to drop its needles in the fall.

Sandbar Willow

Height: 1-4m

The Sandbar Willow, also referred to as Narrowleaf Willow or Coyote Willow, is a perennial shrub species located from Alaska to New Brunswick. This species has a strong colonizing ability and expansive spreading root system, which make it an ideal species for shoreline stabilization. The Sandbar Willow produces a single trunk with several erect branches growing from its base. This specie's bark is smooth and purple-yellow in colour. Leaves produced are simple, elongate and lance-shaped, alternately arranged along the branch. This specie's leaves are two-toned with a glossy green upper surface and light to matte white underside. Throughout the summer, yellow-green catkin flowering bodies bloom, creating a favorable environment for a range of pollinator species. This species of Willow is tolerant of both drought and flooding and can quickly rebound when damaged by beavers, making it a very hardy plant species.

Bebb Willow

Height: 5 m

The Bebb Willow is a mid-sized deciduous shrub species that can grow up to 5 m in height. This plant may also be known by the common names Beaked Willow and Diamond Willow. The leaves are alternately arranged, dull green in colour, have wrinkled and hairy undersides, are narrow and elliptic in shape (but broad for willow), and have toothed margins. The bark is reddish or grayish-brown in colour and may have diamond-shaped patches along the main stems. The catkins are light green or yellow coloured and appear with the leaves between May and June. The roots can useful for controlling erosion and stabilizing shorelines.

Chokecherry

Height: 6-9 m

The Chokecherry is a large deciduous shrub or small tree which grows between 6 and 9 m tall and is a member of the Rose family. It produces a twisted or crooked trunk as well as a narrow, oval to round crown composed of many slender branches. Leaves are alternately arranged, simple, have a deep green upper surface, and light matte green undersides with tufts of hair at the vein axils. During the fall, foliage turns a vibrant deep red to fire yellow or orange. Between May and June, small showy white flowers grow in cylindrical clusters on the terminal ends of branches. By mid-August, flowers turn into shiny deep red or black cherries, which hang in elongated clusters. The fruit is ripe by September and provides a food source for birds and small mammals. The Chokecherry is often found as pure stands forming thickets, or mixed with other early succession shrub and tree species. This fast-growing plant can quickly invade logged land, abandoned farms, and exposed shorelines. The fibrous and wide-spreading root system of this shrub make it an ideal plant for erosion control and bank stabilization. This species possesses the ability to withstand moderate flooding and drought.

Saskatoon Serviceberry

Height: 5m

The Saskatoon Serviceberry is a very hardy, deciduous shrub, which grows numerous lateral and ascending branches giving it a full, rounded shape. Early during the spring, slender pink buds open into small five-petaled flower clusters on the terminal ends of the branches. The flowers open prior to the leaf bud development, turning the plant into a showy, white bush. Over the summer months, the flowers develop into small, pea-sized purple berries. Leaves produced are blue-green, oval-shaped, toothed prominently along the top of the leaf, and arranged alternately along the branches. During autumn, the foliage changes to yellowish-orange or a deep red-purple colour. The Saskatoon Serviceberry is an ideal species to stabilize banks, control erosion, and restore natural areas due to its fibrous root system.

White Spruce

Height: 20m

The White Spruce is a hardy, coniferous tree species that grows up to 20 m in height. This species has a relatively uniform form with bark that is loose, scaly, and grayish brown. The needles are about 2 cm long and blueish green in color. The cones are 5-7 cm long, cigar-shaped, and have smooth margin scales. The bark of White Spruce is smooth and light grey when young, turning dark grey and scaly upon maturation. This tree species is very adaptable and can grow in most soil types, moisture levels, and sunlight exposures. This tree is important for providing food and shelter to wildlife species including deer, porcupines, birds, and small rodents. White spruce is a long lived tree species, and usually lives 250-350 years old. However, individuals have been seen that have lived up to 1000 years old.

Eastern Cottonwood

Height: 30m

The Eastern Cottonwood is a medium to large sized deciduous tree, growing up to 30 m in height. The trunk tends to branch out in open areas, giving it a multi-stemmed trunk and a broad crown. The leaves are triangular, have a heart-shaped base with a pointed tip, and have large rounded teeth all along the margin. They are about 5-10 cm long with a leaf stalk of the same size. These protein rich leaves turn a golden yellow in the fall before falling to the ground. Male and female catkins grow on separate trees and appear before leaves emerge in April to May. The catkins are 5-7 cm long with the males having a dark red colour and the females having a green colour. Female trees produce fruit that look like green, egg-shaped capsules. In the early summer, these capsules split into 3 or 4 parts and release hundreds of tiny seeds with white hairs, appearing like cotton balls, hence the name of the species. Eastern Cottonwood grows best in full sun or partially sun areas as well as in soils which are normal to wet and composed of sand or loam. The natural habitats of the Eastern Cottonwood are woodlands, wet meadows, riparian edges, swamps/marshes, and lake shorelines. This tree is useful due to its ability to mitigate erosion and tolerate difficult conditions like drought, flooding, salt, and compaction. Additionally, it attracts bird species as well as butterfly species such as Eastern Tiger, Swallowtail, and Mourning Cloak.
Compartment A
Naturalization Area
pH:

acidic, normal

Depth:

bareroot

Moisture:

normal, moist

Soil Type:

sandy, clay

Light conditions:

full sun, partial sun
Compartment B
Naturalization Area
pH:

normal

Depth:

potted, bareroot

Moisture:

normal, moist

Soil Type:

sandy, clay

Light conditions:

full sun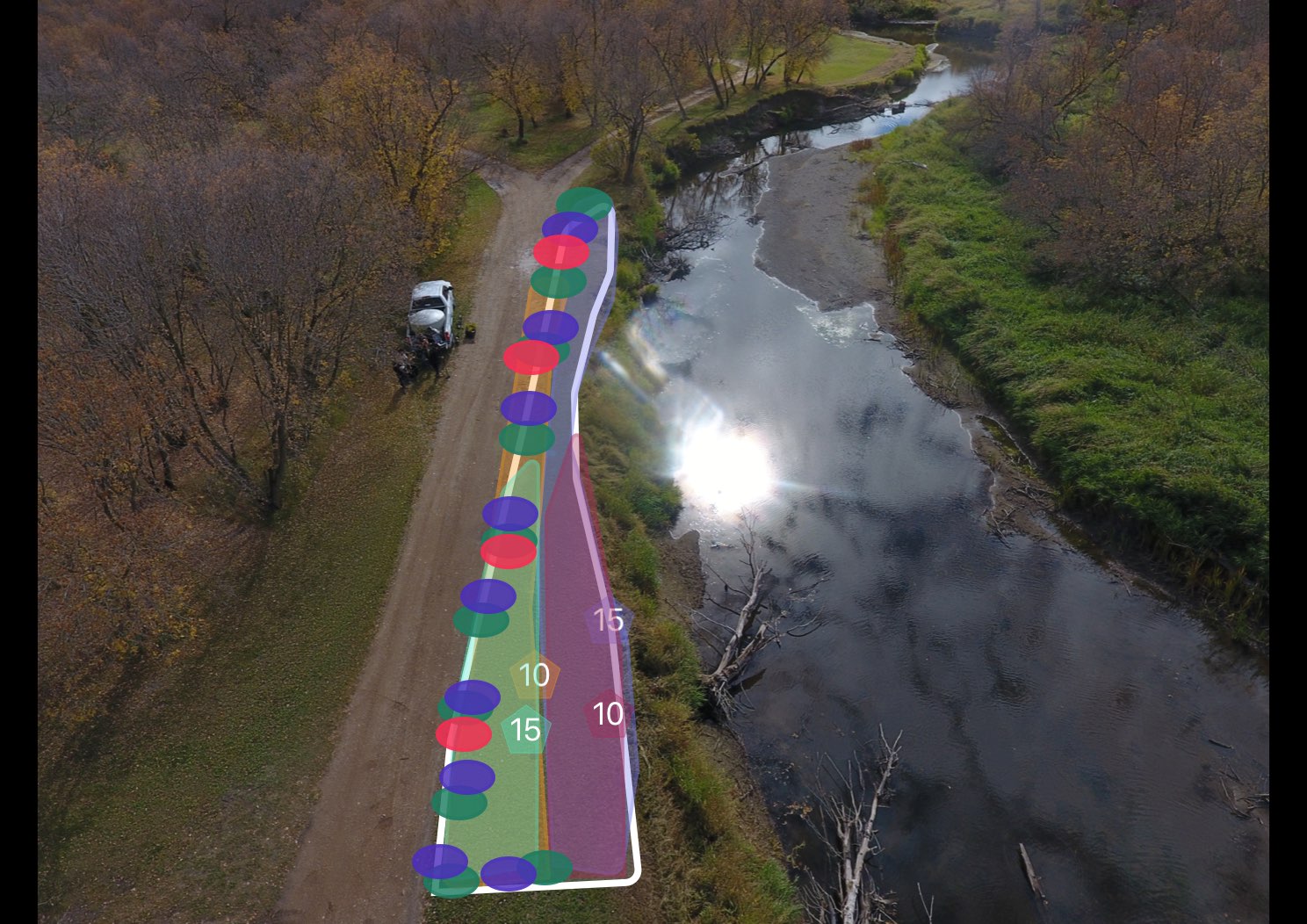 Schedule B
Financial Summary
Project by: Assiniboine Watershed Stewardship Association
Schedule C
Project Agreement
Stewardship Agreement
Please indicate your agreement to this proposed plan by signing the following Stewardship Agreement and submitting it, along with your financial contribution, to:
Assiniboine Watershed Stewardship Association
Assiniboine Watershed Stewardship Association 29 2nd Ave North Yorkton, Saskatchewan S3N 1G1
Plant Availability
Please note that plant species may need to be changed based on plant stock availability at the time of ordering.
Project Completion
Upon receiving your signed stewardship agreement and financial contribution, a date will be booked to complete the project. Watersheds Canada will supply all plants, materials, and planting labour. If there are particular dates that you would prefer, we will do our best to accommodate your requests.
The Natural Edge Stewardship Agreement with Assiniboine Watershed Stewardship Association
Agreement made this Day of the Month of in the Year .
BETWEEN Town of Sturgis, Sturgis Regional Park, Box 520, Saskatchewan, S0A 4A0 (Hereinafter called the OWNERS)
AND Assiniboine Watershed Stewardship Association, Assiniboine Watershed Stewardship Association 29 2nd Ave North Yorkton, Saskatchewan S3N 1G1, (Hereinafter called WC)
WHEREAS the Owners and WC have met and discussed plans for shoreline naturalization on the specified area(s) in Schedule A existing on the Owners' land;
WHEREAS the Owners indicate approval of the project as proposed; and
WHEREAS the project is, or will be for the benefit of the Owners and others;
1. This Agreement shall be in effect for a period of 5 years, commencing with the date of this Agreement.
2. The Owners and WC agree that the areas where the work is to be performed is as described in Schedule A.
3. The Owners grant WC, its contractors, employees and agents, the right to enter the property to perform the work agreed upon as outlined in Schedule A. In addition, WC, its contractors, employees and agents may inspect the work performed for the purposes of monitoring the project and survival assessment, with prior agreement with Owners for date and time of inspection.
4. The Owners agree to contribute the "Landowner contribution (0% of eligible costs)" and pay the costs indicated in Schedule B.
5. In instances where the Owners are to pay WC for work to be performed (outlined in Schedule A), the Owners agree to provide payments to WC prior to the commencement of that operation. Failure of payment shall constitute a breach of this Agreement and the Owners agree this Agreement will be terminated and thereupon the Owners agree to pay WC the estimated costs of the operations of the project completed, if any.
6. The Owners agree, if necessary, to perform a reasonable amount of maintenance, which is described in the Native Plant Care Guide, available at watersheds.ca.
7. If the contractor is required to perform the work outlined in Schedule A, then the contractor carrying out the work on the land described will be required to take out and furnish evidence of a comprehensive policy of public liability and property damage coverage. The contractor and their workers will be required to be in good standing with the Workplace Safety and Insurance Board prior to performing the work.
8. The Owners agree not to remove, destroy or alter the project without prior consultation and approval of WC. Pruning and trimming planted nursery stock, or adding replacement native nursery stock is exempt.
9. The Owners agree not to mow the planted area.
10. The Owners do acknowledge that WC, its contractors, employees and agents, having performed said works, are not under further obligation with respect to survival of nursery stock, inspection, or maintenance.
11. The Owners, in the absence of negligence, hereby remises, releases and forever discharges WC, its contractors, employees and agents from all claims and demands for injuries, including death, loss, damages and costs in any way related to or connected with installation and maintenance of the work described or resulting from any deleterious effects of the work to the land or to the lands and buildings thereon retained by the Owners.
IN WITNESS WHEREOF the parties have agreed to the contents of this plan; SIGNED:
About this program
About Assiniboine Watershed Stewardship Association
The Assiniboine Watershed Stewardship Association (AWSA) is an independent, non-profit organization that is dedicated to protecting and enhancing source water in the Assiniboine River Watershed. Our vision is citizens and communities of the Assiniboine River Watershed working together to protect the source waters of the Assiniboine River; its tributaries and aquifers within the watershed. Our mission is to have healthy source waters throughout the Assiniboine River Watershed.
This program was created by Watersheds Canada
We believe that every person has the right to access clean and healthy lakes and rivers in Canada. At Watersheds Canada, we work to keep these precious places naturally clean and healthy for people and wildlife to continue using for years to come. We love working with others to meet the needs of local communities, whether you're a concerned citizen, a landowner, a lake association looking for help, or a coalition of groups interested in activating your local community.