Save more shorelands faster is the priority missing in the Ford government's "More Homes Built Faster" Act, Bill 23.
The Bill supports the Ontario government's plan to immediately build 1.5 million new homes by 2031 by bringing in changes to ten provincial Acts, some of which have been key to addressing waterfront development, the protection of freshwater, as well as upholding taxpayer's rights to stand up for a healthy and sustainable environment.
The Bill's rationale is to increase the supply of urban residential development but has failed to consider the implications of these changes on sensitive areas such as freshwater lakes and rivers.
"A house is not a home (or cottage) without natural features. Vegetated shoreland buffers that are imposed as a development condition in some Site Plan Control by-laws help mitigate erosion impacts, protect fish, wildlife habitat, and water quality, and reduce the impacts of flooding," said Robert Pye, Executive Director of Watersheds Canada, an environmental charity that has consulted tens of thousands of concerned waterfront property owners, developers, and municipal staff across Canada.
The common theme from stakeholders is that we all want the same thing: a healthy environment to support a healthy economy. The protection, maintenance, and restoration of vegetated shoreland buffers not only increase one's property value, but supports healthy fishing and tourism industries.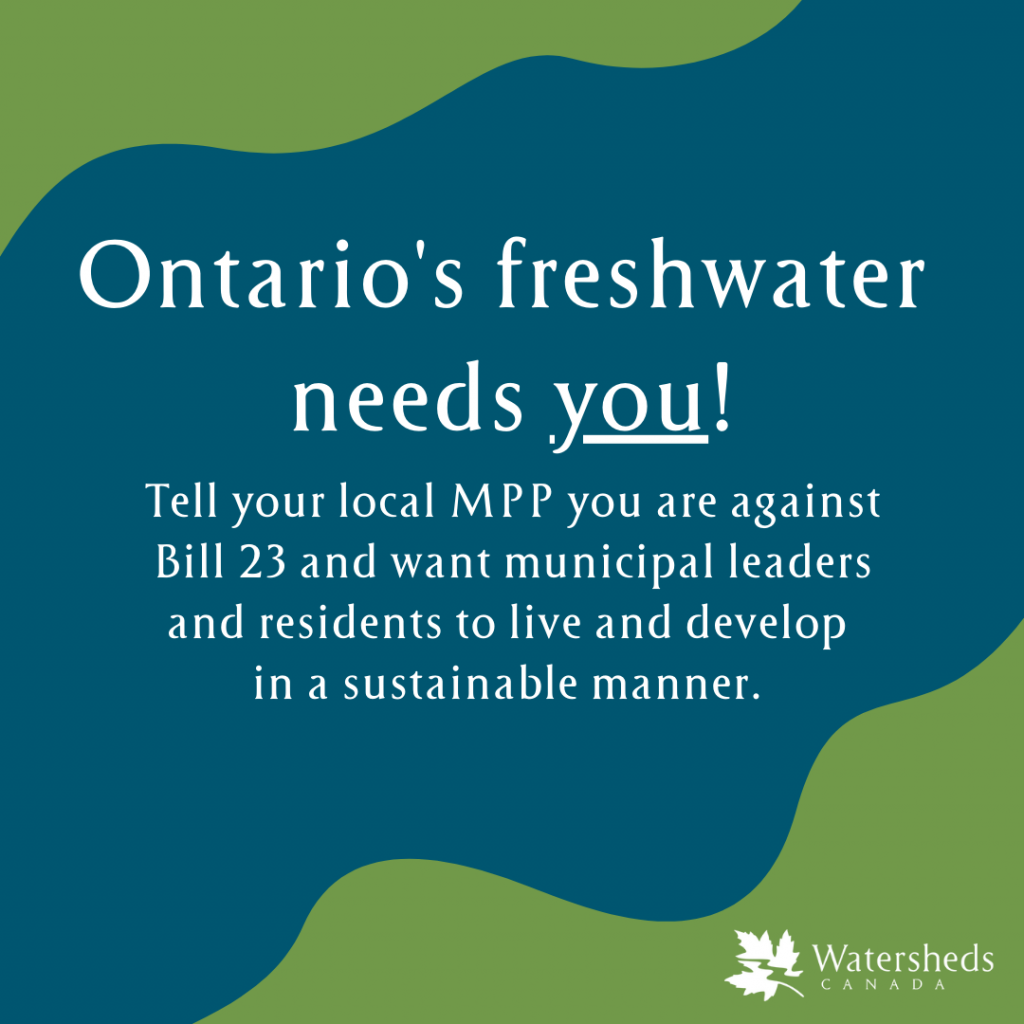 "Watersheds Canada believes that land use planning relies on the local knowledge and leadership of municipalities," said Pye. "Now is not the time to weaken climate change resiliency measures utilized through Site Plan Control, nor is it fair to our environmental future to revoke municipal oversight and an individual's right to comment on land use changes affecting their local watersheds."
Bill 23 was introduced hours after votes were counted in the municipal election. For months, local government officials, planners, residents and lake associations have been engaged in shoreland protection resources from Watersheds Canada's Planning for our Shorelands program.
How are we going to protect natural freshwater features and waterfront homes in the wake of climate change and increased shoreline developments? That's the question Watersheds Canada has been empowering communities to consider through the proactive delivery of practical policy resources and public outreach.
Now the future of lakes, rivers, and shorelands must face Bill 23 which seeks to prohibit Site Plan Control, a development review process under Section 41 of the Planning Act, from being used to ensure the maintenance or restoration of vegetated shoreland buffers as a condition for approved development.
Pye added that despite everything Watersheds Canada has been doing to promote shoreline protection, especially as city homes have been sold for the move to permanent rural waterfront residence, Bill 23 takes leadership away from municipal decision-makers including Conservation Authorities and other local stakeholders.
Watersheds Canada is calling for MPPs throughout Ontario to rescind Bill 23. Watersheds Canada takes a stand against Bill 23 due to the harmful impacts it will have to freshwater lakes and rivers in Ontario. We believe in our freshwater stewardship resources, outreach initiatives and habitat programs that have encouraged municipal leaders and residents to live and develop in a sustainable manner.
Please take a moment to share this message with your email and social media network and voice your concern about Bill 23 by signing our petition.